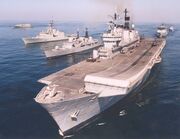 HMS Illustrious
(
R06
) is the second of the three 
Invincible-class
light
Aircraft Carriers
. It is estimated to
cost
£215,400,000 and is planned to be decommissioned in 2014 and later replaced by
HMS Queen Elizabeth (R08)
. It is owned by the
Royal Navy
and was mainly used during the
Falklands Conflict
, assisting the RAF's
Sea Harriers
. At the moment, HMS Illustrious is the 
Royal Navy's
sole
Aircraft Carrier
.
HMS Illustrious, like many modern carriers, has its own form of self-defence. It has a Goalkeeper Close-In Weapon System anti-missile turret, and two GAM-B01 Okerlikon 20mm close-range cannons.
HMS Illustrious carries 22 aircraft at a time when in one of its two roles:
Its motto is Vox Non Incerta, which is Latin for "No Uncertain Sound". The carrier weighs around 22,000 tons and is 209 metres long. It has a crew of 685 and 366 personnel for the Fleet Air Arm.
Community content is available under
CC-BY-SA
unless otherwise noted.