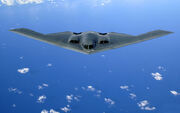 The
B-2 Spirit
, also known as the
Flying Wing
, is an extremely advanced and sophisticated
US
strategic bomber which uses
stealth technology
. The exact specifications for the bomber are classified by the
US Air Force
. Only 22 of these giant aircraft were built. If a B-2 Spirit Bomber gets excessively wet, it will lose its stealth ability due to the methods required for achieving stealth.
The Spirit can drop up to eighty 500lb JDAM GPS-guided bombs, or up to sixteen B83 2400lb nuclear bombs.
Community content is available under
CC-BY-SA
unless otherwise noted.